This past Monday, my office closed along with much of the city while Hurricane Sandy struck Boston. Sitting at home, eyes glued to the Weather Channel, I felt like something was missing from my day; as my apartment windows rattled with the misty wind, I was feeling restless, legs shaking with bore and anxiety. The remedy to this came in the form of a text message from a friend who was on his way home from work, which had let out early to let folks catch the T before its 2pm closure: "Bike ride to Castle Island? I'm going soon"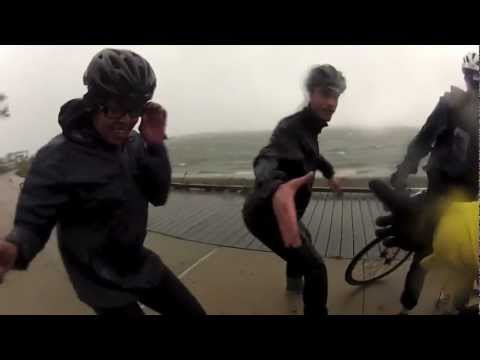 The above video was shot with a GoPro HD Hero2 camera with chest-harness I've been capturing drum-biking footage with. At some points on the ride the wind was so strong we could not bike against it on even our lowest gears, and had to walk. When we reached the water we met two other cyclists who were out biking to experience the hurricane. Even though there wasn't much wave action by the water, we rode around and caught tail-winds. Fortunately, unlike New York, there was not much damage done in the actual city itself.
And though I didn't bring my drums, I did imagine what drum-biking in the hurricane would be like:
PS. While most folks in Boston were not hit so hard by Hurricane Sandy, it's great to see that in the unfortunate aftermath of Hurricane Sandy in New York City, plenty of people are discovering the joys of riding a bicycle around with all the disruptions to public transit and gasoline supply.